Hanging flyers on designated bulletin boards within Student Centers buildings is a great way to advertise to the Mason community.
Mason departments, organizations, individual faculty, staff and students, companies, recruiters, community organizations and all other individuals may post approved flyers in the designated locations within the Student Centers buildings (see table below).
Every flyer posted within the Student Centers must be stamped for approval at the Student Centers Office in Johnson Center 324. Each stamp contains the guaranteed date the flyer will be allowed to hang until, but the maximum approval duration may be longer (see Flyer Approval Duration below).
Products and services may not conflict or compete with the University's exclusive contracts which include: Barnes and Noble, Sodexo Food Services, Coke Vending Company, Creda Vending Company.
Flyers cannot include alcohol prices, promotion of drinking, pornography, or potential dangers.
If you are having trouble locating the appropriate bulletin board contact Student Centers at (703) 993-2921.
| Building | Location | # of Boards | # of Flyers Allowed (Mason Departments and RSOs) | # of Flyers Allowed (Non-Mason Affiliated) |
| --- | --- | --- | --- | --- |
| Johnson Center | Walls facing elevators on east and west sides of first, second, and third floors. | 6 | 12 | 6 |
| The Hub | Bulletin board on mid-level and near stairs. | 3 | 3 | 3 |
| Student Union Building (SUB I) | Posting strips in the stairwell. | 4 | 4 | 4 |
| Southside | Bulletin board in main lobby (near elevator). | 1 | 1 | 1 |
| | | Total Flyer Allotment | 20 | 14 |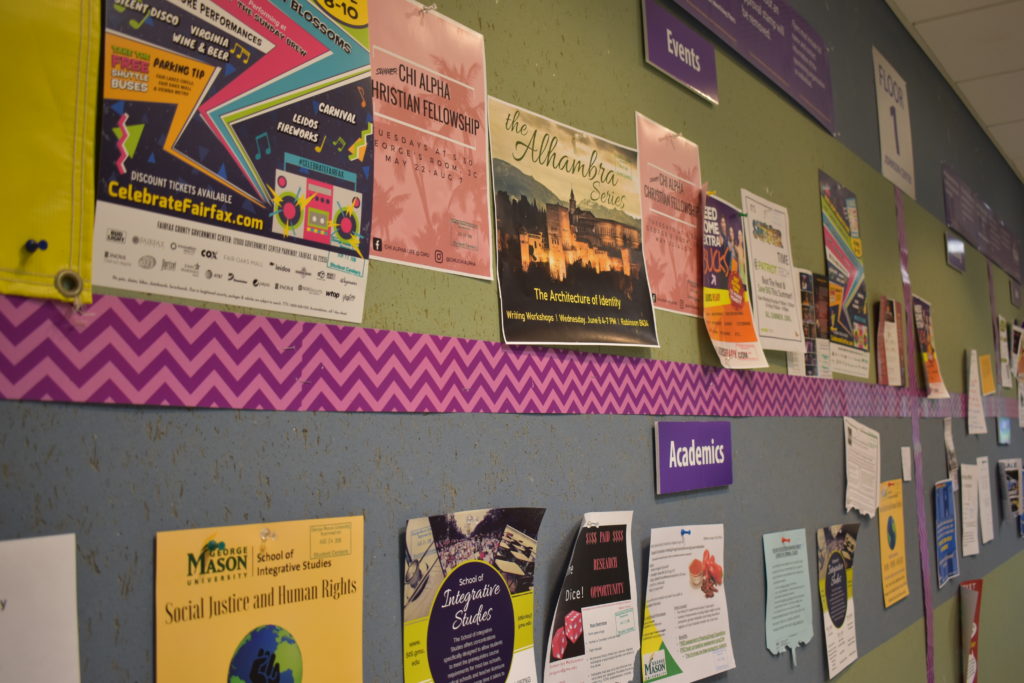 The content on a flyer is considered Mason-affiliated content when it advertises GMU-sponsored events (often hosted by a student organization or department), new classes students can register for, GMU services and resources, and other similar concepts.

The content on a flyer is considered NON Mason-affiliated content when it advertises non-GMU-sponsored events (such as events in the community not related to Mason), non-Mason housing opportunities (such as rooms for rent), and other similar concepts.

A flyer's content determines how long it can hang on the bulletin boards.
After two weeks, ALL flyers are subject to removal by Student Centers staff in order to make room for new flyers if needed, regardless of content type and approval duration. This is to ensure that all users have fair access to the bulletin boards and have the opportunity and space to post their flyers.
A flyer promoting a big dance event for a GMU sorority on May 10 may hang as early as the start of that same semester in January and remain hanging until the event date. If this same flyer was instead posted sometime during the previous fall semester, it would be taken down in December and would need to be replaced by the sponsoring organization or individual for the spring semester.
If a flyer with no given date is a general advertisement for an office or service on campus, such as the Admissions Office, is posted in February, that flyer may continue hanging until the end of the current semester, in May.
If a flyer advertising a local community center's movie night on March 15 is posted on February 15, it could hang until the event date. However, if that same flyer was instead posted on February 10, it would be taken down on March 10.
Flyers terms and conditions
Any flyers posted without a stamp of approval from Student Centers will be removed immediately by Student Centers staff.
Flyers can be up to 11″ X 17″ in size. Any flyers posted to the boards larger than this size will be removed by Student Centers staff.
Longer periods for posting must be approved by the Director of Student Center or their designee.
Student Centers staff will immediately remove any flyers posted in any areas other than the approved locations described in the table above, such as entry door windows, painted walls, stair rails, or floors.
Flyers must include the full name and contact information (e.g. phone number, and/or email) of the sponsoring organization or individual. For Mason Departments and Registered Student Organizations (RSOs), a website or social media handle will be an acceptable form of contact information as long as it is shown on each individual flyer. This provides direct contact information for the sponsor of the flyer in the event that a patron would like further information or dialogue with the sponsor.
The sponsor wishing to hang a flyer must print and distribute the copies on their own. Student Centers staff cannot print and/or hang up flyers on behalf of an individual or organization. Any costs incurred from printing copies is solely the responsibility of the sponsoring individual or organization.
Flyer content must comply with all George Mason University, Virginia, and local laws and policies.
Flyers that promote fundraisers must include contact information for the recipient of the funds in addition to the contact information of the sponsoring organization or individual.
If the flyer is written in a language other than English, the sponsor must also provide an English translation.
Flyers approved by Student Centers may only be removed from flyer boards by Student Centers building staff. If there is no room on the boards to post your flyer, please call Student Centers at (703) 993-2921.
Any flyers partially or completely covering other flyers will be removed by Student Centers staff.
Any flyers that have more copies than the allowed quantity posted to flyer boards (see table above) will be removed by Student Centers staff.
No approval is needed to hand out flyers outside of Student Centers buildings (i.e. in North Plaza), but soliciting and/or distributing materials inside buildings is prohibited, unless the activity is taking place at a kiosk the individual or organization has reserved. Individuals cannot approach other students or patrons inside the buildings and distribute materials. They must use the proper flyer process and post their flyers in the designated locations, or distribute materials from a reserved kiosk space to patrons who approach the kiosk.